Plastic oil refining plant is through distillation, filtration, decolorization, deodorization of these several processes to make plastic pyrolysis oil, tire pyrolysis oil, waste lubricating oil, heavy oil, used motor oil into clearer diesel. Next, I will introduce to you our plastic oil refining plant.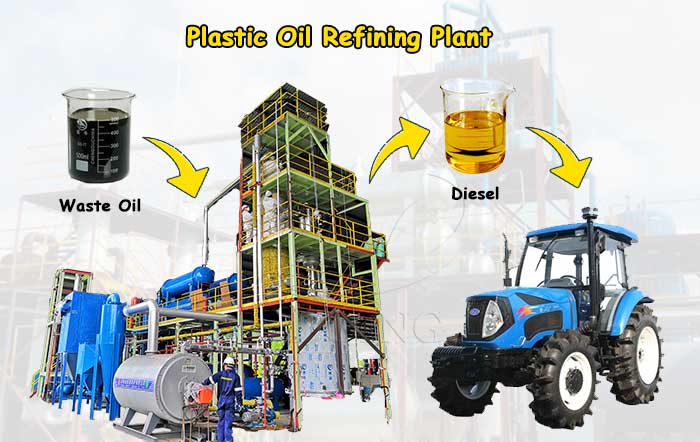 Plastic oil refining plant
The components of plastic oil refining plant
Doing plastic oil refining plant mainly includes an indirect heating system, recovery reactor, condenser system, catalyst system, purification system and dust removal device. The indirect heating system can greatly accelerate the distillation speed and save the heating fuel. Its reactor is designed in a vertical position to realize automatic slagging. The cooling system adopts combination of vertical condensation and horizontal condensation in tubes which can cool oil gas into diesel oil. We use shell and tube condenser to ensure cooling efficiency and oil yield. The catalyst system can effectively remove the odor and colloid in diesel oil. The purification system can further purify the diesel oil in depth, and finally get light yellow diesel oil. The dust removal device can purify flue gas, control pollution and protect the environment.
The work process of plastic oil refining plant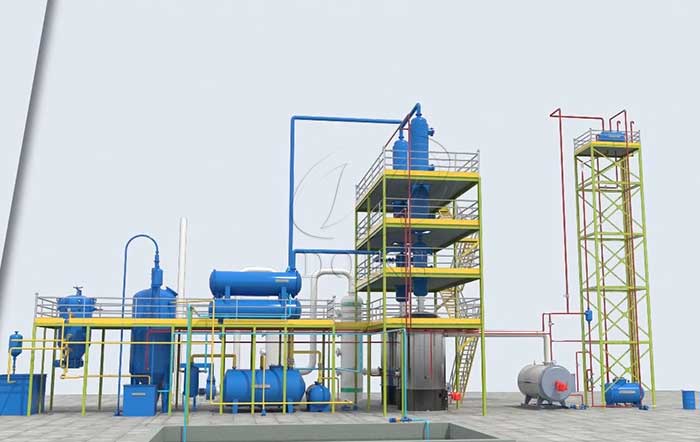 Plastic oil refining plant 3D demo
First, put plastic oil into the refining reactor, and then open the indirect heating system with conduction oil to heat the vertical reactor. When reaching a certain temperature, oil gas will be distilled out. Through the condenser system, oil gas will be cooled to diesel, and then through the use of catalysts to get decolorising and deodorizing. After the process, you will get a clear diesel. If you want to get a better diesel situation, you can add a further purification system to clean it, which eventually gets better quality and better color. It can be used in diesel burners, generators, tractors and some agricultural machines.
If you would like to know more about plastic oil refining plant, please feel free to contact us.