We get plastic pyrolysis oil from waste plastics by using our waste plastic to fuel oil plant. But in order to make the plastic pyrolysis oil have higher value and wider applications, we have designed the pyrolysis oil to diesel plant (also named pyrolysis oil distillation plant), which can further refine the plastic pyrolysis oil to diesel or gasoline. This machine not only applied to plastic pyrolysis oil, also can use for tyre oil, waste engine oil and other heavy oil. The final oil-diesel can be used for tractors, trucks, ships and generator power etc.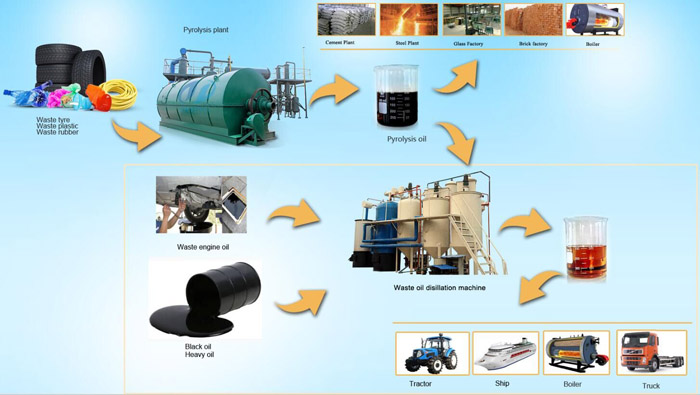 Waste plastic to diesel
The process of pyrolysis oil to diesel plant
1. Pump waste used oil into reactor, close the reactor door, start heating (indirect heating system makes the distillation fast and efficient and prolong the service life of reactor, the heating material can be wood, natural gas or oil).
2. Collect oil (when the temperature reach around 150 degree , oil gas will come out, then go through the cooling system to liquid into distillation oil).
3. Odor and color removal process. After this process, good quality distillation oil can be obtained.
4. Slagging ( the residue can be discharged easily without waiting the reactor cool down )
5. Then you can start a new batch because the reactor still keep temperature, so you can saving heating energy.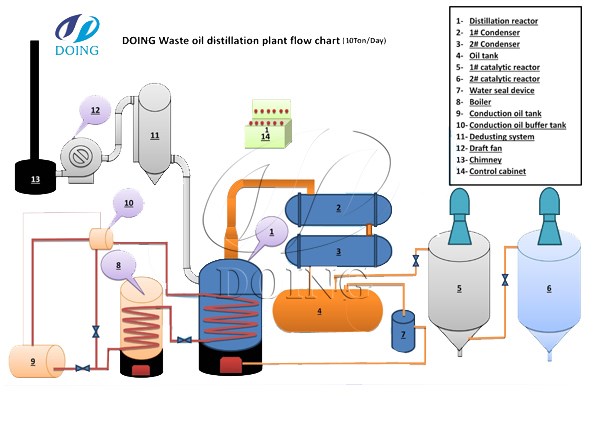 Plastic pyrolysis oil to diesel plant
Technical parameter of pyrolysis oil to diesel plant
| | |
| --- | --- |
| Items | Contents |
| Model | DY-5t, DY-10t, DY-20t, DY-50t… |
| Raw material | motor oil, waste tire crude oil, plastic crude oil |
| Structure form | Vertical (easy cleaning and maintenance) |
| Heating method | Indirect heating to prolong the machine service life |
| Operating pressure | Constant pressure |
| Heating material | Coal, charcoal, fuel gas, fuel oil |
| Average out-put oil rate | 85% |
| Material of reactor | 4 reactor with different material |
| Thickness of reactor | 18mm |
| Mode of cooling | Recycled water cooling |
| Power in total | 20 Kw |
| Service life | average 7 years |
| Land area | 180㎡ |
Main feature of pyrolysis oil to diesel plant
1. Fast.
The unique fast heating system is especially designed for shorten working time. In market, mostly are horizontal reactor or old design for pyrolysis oil to diesel plant which take about 3-5days to finish one batch.
2. Easy slagging
Vertical reactor make slagging from bottom automatically and fast.
3. Energy saving
Fast heating system keep temperature even after slagging and you can use for next batch so is energy saving.
4. Safe
Strict quality control system and professional safety devices guarantee our pyrolysis oil to diesel plant running safely and win a good reputation from customers.
5. Environmental friendly
Professional dedusting systems ensure our pyrolysis oil to diesel plant runs zero pollution.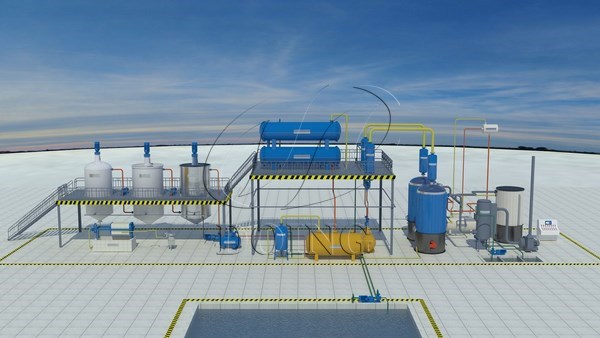 Pyrolysis oil to diesel plant 3D drawing
Through the combined action of waste plastic pyrolysis plant and plastic pyrolysis oil to diesel plant can realize the conversion from waste plastic to diesel oil, making profit from "white pollution". For more information about waste plastic to diesel plant, please feel free to contact us and we will provide you with professional advice and solutions.