Nowadays, the fully automatic pyrolysis plant is becoming more and more popular in the market for its characteristics of big capacity and high processing efficiency. But only several suppliers have mature continuous pyrolysis technology, and DOING is one of them. And Doing Company is the popular choice of many big manufacturers to buy the fully automatic pyrolysis plant.
What are the advantages of Doing Company and its to win the favor of many big manufacturers with large handling capacity of waste tires and plastics?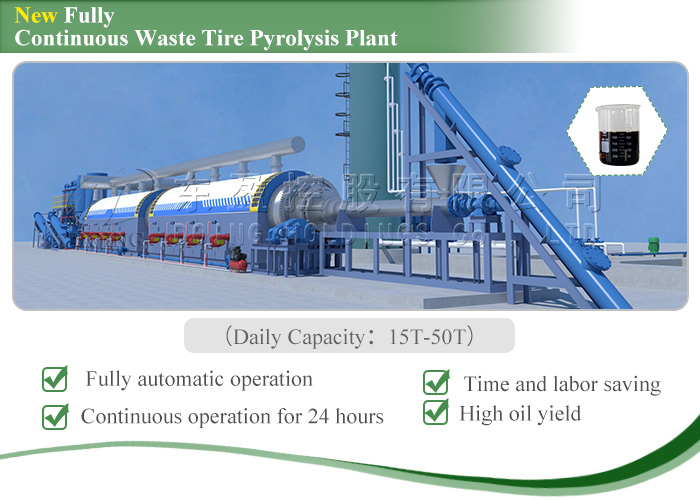 What's the advantage of fuly automatic pyrolysis plant?
1. Great research & development and manufacturing strength
Doing Group has manufactured the pyrolysis plant for over 12 years. And DOING is developing and upgrading the technology and design constantly, not like other suppliers who always used the technology 10 years ago. DOING Group has a strong engineering team and factories as support. We expanded a new factory which occupies 20,000 square meters of land this year. In total, we have 38,000 square meters of land now. The engineering team and great production capacity helped us group grow fast and become the No.1 in this pyrolysis industry.
2. Best fully automatic pyrolysis plant design and rich installation experience
DOING has its own technology for the fully automatic pyrolysis plant. We developed continuous technology by ourselves totally, and we have successful running sites which have run for over 2 years. We received a lot of good feedback from our clients. Now we have sold fully automatic pyrolysis plants to many countries like Kazakhstan, India, Russia, Brazil etc.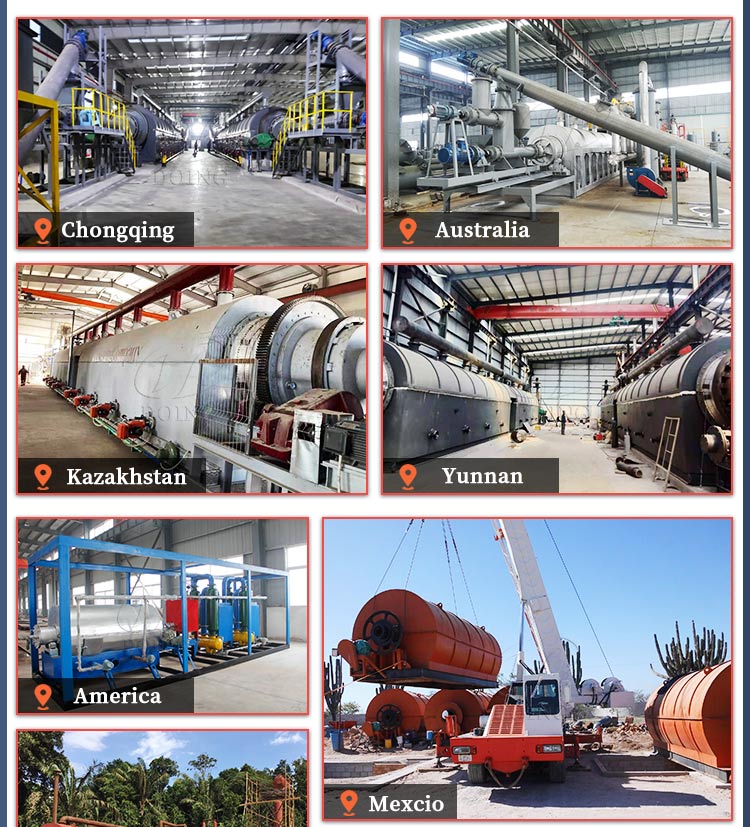 Some project cases of DOING factory
From 2020-2022, we are also adjusting the technology of the fully automatic pyrolysis plant constantly to meet the best effect, such as the condensers anti-block design, the whole system seal design and the design that oil can be pumped at any time without pressure imbalance during the operation of the equipment, etc. These are all the key technologies for realizing the continuous running of fully automatic pyrolysis plants.
3. All-around after-sales services
And we also provide the satisfied and all-around after-sales service. We could send engineers to client's site and guide the installation. We provide help without hesitation when our clients ask us, and this is our objective: customer's success is our greatest success. We will be committed to providing customers with the best solution, the best machine quality and the best after-sales service.
We are confident that we are the best choice for our clients who want the fully automatic pyrolysis plant. No matter you want to customize the waste tire or waste plastic fully continuous pyrolysis plant, just feel free to contact us for free quotations.
​