The waste motor oil can be converted into diesel fuel through waste oil refinery technology, this way can not only avoid environmental pollution, but also make the waste motor oil reuse effectively.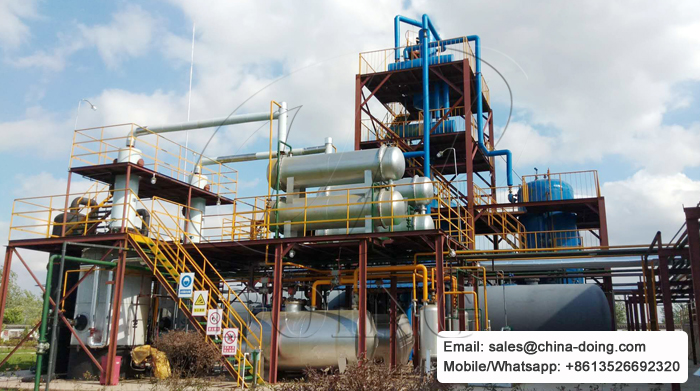 Waste motor oil refinery plant
Before, refining waste motor oil generally use the traditional way (distillation, acid washing and alkali washing) to get diesel in the market. But now, we Doing company have a new waste motor oil refinery way to get diesel fuel without acid washing and alkali washing, it main uses solid catalyst technology, that is, after distilling by heating the distillation reactor, the waste motor oil will become oil gas which will pass through the catalytic tower, then the impurities of the oil gas will be removed and the diesel fuel quality can be guaranteed.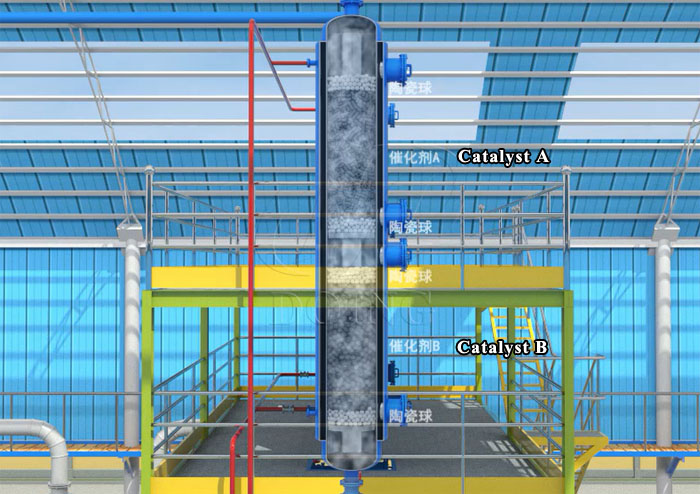 Solid catalyst tower of waste oil reifnery plant
Compared with the traditional waste motor oil refinery way, using solid catalyst technology has the following advantages:
1.It is easy to operate during refining the waste motor oil, and there is no need to purchase a large number strong acid and alkali. Also, we have no needs to make follow-up treatment of these waste acid and alkali.
2.This way will accelerate the production process with less time and high efficiency.
3.The quality of diesel fuel refined by solid catalyst is higher than the acid and alkali washing way.
The waste motor oil refinery project is not only environment friendly, but also profitable. This form may help you get a clear understanding.
ROI Analysis For 10T/D waste oil to diesel refining plant
Running Cost / Day
Waste engine oil
10Ton * USD265/Ton = USD2650
Heating fuel (Diesel)
0.6Ton * USD700= USD420
Catalyst
USD100
Electricity
USD60
Water
Water is for circulation use, no consumption
Worker
2 * USD25 = USD50
Income / Day
Diesel
8.5Ton * USD700 = USD5950
Oil sludge (Asphalt)
1Ton * USD200 = USD200
Profit / Day
USD2870
If you want to start the waste motor oil refinery project, you can call us, Doing product managers are very professional, they can help you design the suitable machine plan for you.