Many countries are studying how to deal with tons of plastic wastes produced in daily life in an environmentally friendly way. And here is good news! There is a new idea and technology of plastic waste disposal----Plastic Waste Pyrolysis Machine, which could convert the plastic into valuable fuel oil, carbon black and tail gas in a green recycling way.
1.Plastic Waste Pyrolysis Technology Introduction
Unlike the plastic waste disposal way of mechanical grinding and incineration, adopting pyrolysis machine to converting plastic waste into oil does not degrade the quality of plastic recycling products and emit toxic pollutants such as acid gases and heavy metals. Pyrolysis Plastic to oil is a new technology, mainly by means of high temperature, to crack plastic, a polymer compound, into low molecular compounds in the absence of oxygen. During the whole pyrolysis process, the environment is airtight, the air pressure control is stable, and the flue gas purification system is equipped to ensure that no harmful pollutants are produced.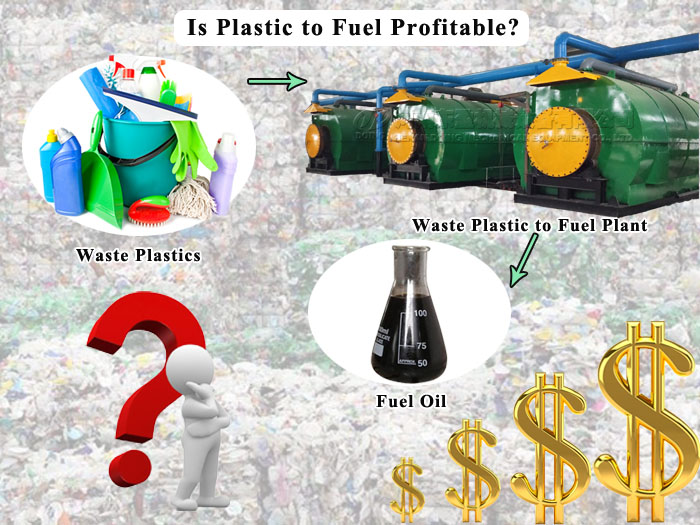 Waste plastic pyrolysis plant
2.Plastic Waste Pyrolysis Materials and Related Oil Yields
There are many different types of plastics, all kinds of plastics could be used for pyrolysis, just the oil yield of different types of plastic is different. If your material contains much PP, PS, PE, then the oil yield will be high, could be 70%, if the material is mixed plastic, then the oil yield will be between 40%-60%.
3.Final Products of Plastic Waste Pyrolysis and Their Uses
Plastic pyrolysis oil: a kind of heavy oil and good heating fuel, with 10592.48Kcal/kg heating value, which is much higher than that of coal. It has a good market in different countries. The plastic pyrolysis oil is widely used in boiler factory, cement factory, steel factory, brick factory, glass factory, heavy oil power plant, warm supply center and so on. You could also refine it to diesel with a set of pyrolysis oil distillation machine.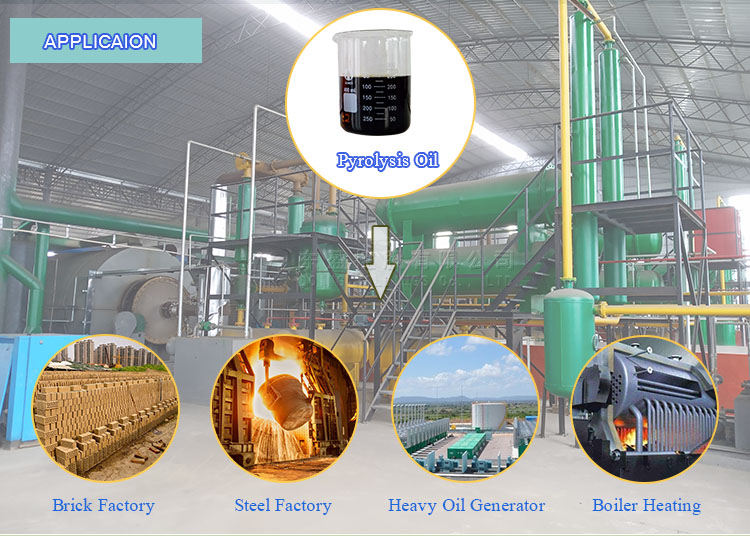 The applications of pyrolysis oil
Carbon black: it can be used as a reinforcing agent and filler for rubber and as a colorant for inks, coatings and plastics.
Tail gas (mixed light gas): it can be used to heat the reactor directly to reduce the fuel consumption.
All above is the introduction of converting plastic waste to oil disposal pyrolysis technology. For more details and free quotation of the Plastic Waste Pyrolysis Machine, please feel free to contact Doing Company.
The pyrolysis machine designed by Doing Company realizes the industrial and stable pyrolysis under the premise of safety and environmental protection through repeated tests and systematic design of a series of key elements of pyrolysis technology such as heating temperature, heat conduction area, heat conduction efficiency, and working pressure. In addition, the oil output is high, and the quality of the obtained plastic pyrolysis oil is guaranteed, which can make your plastic waste recycling project more cost-effective!