Waste tire rubber powder machine is composed of tire dismantling machine/tire cutting machine, tire shredder as well as rubber cracking machine and following is the brief introduction of a more automatic waste tire rubber powder recycling production line.
The entire production line mainly has these steps: tear the tires into 5cmx5cm debris, then process the rubber debris into 10-20M rubber particles, separate the steel in the rubber powder, and finally grind it into about 5M. powder. The stand-alone equipment required for each step and its function are described in detail below.
1.Tire steel wire drawing machine
Our steel wire drawing machine consists of motor, hydraulic system, hook, pull mouth, body and other components.The basic principle is: the motor drive hydraulic system and the cylinder, and the hook connected to the cylinder rod, the pump, cylinder movement promote the hook back and forth movement.Place the tire at the pull mouth, get the hook out of the mouth, hook the tire inner steel ring and then start button. Due to the strong tension of the cylinder, the sidewall rubber will be torn up at the pull mouth, the whole wire can be pulled out and then realize the steel wire and tire rubber separation.
Tire steel wire drawing machine
2.Hydraulic tyre cutter
Hydraulic tire cutting machine is used for waste tires cut off, which can split the waste tires, rubber strips, etc., to provide materials for the rubber power making machine. The machine adopts hydraulic transmission, with simple structure, having advantages of smooth operation, low noise, easy operation, easy to achieve overload protection. This kind of tyre cutting machine is used to process tyres after cutting off beads into several pieces. It is skilled in cutting rubber tyre,rail tyre, rubber strips etc.It consists of motor, hydraulic system, oil cyclinder, a pair of blades, machine shelf and rotation rotors.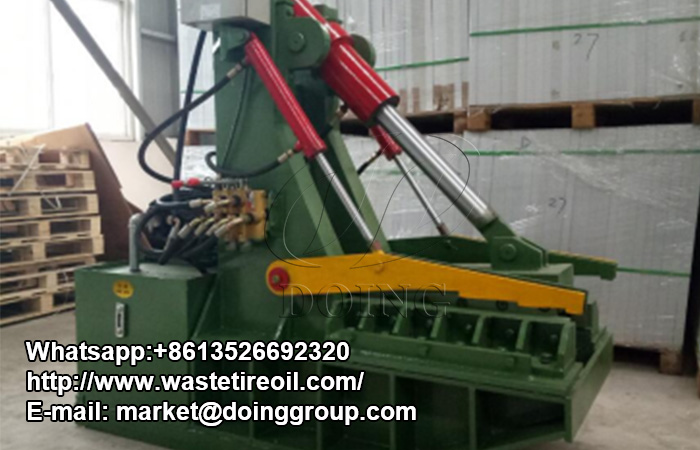 Tire steel wire drawing machine
3.900 Tyre shredder
ZPS series 900 tyre shredder is mainly used for crushing scrap rubber and waste tires,which is applied for crushing sidewall steel-removed truck tire, car tire, inner tube, rubber shoes and other used rubber products and benefits the waste recycling industry.
For the detailed specifications of our tire rubber powder recycling plant, please do not hesitate to send your enquiry.