Waste tires pyrolysis project because of its enormous economic benefits and broad prospects for development and is widely popular throughout the world. In the past ten years, do have pyrolysisunit have been installed in more than 90 countries and regions, and has trained a number of overseas engineers, assist customer on-site installation. Today, I will be according to the capacity for new beginners introduction of waste tire pyrolysis plant three purchasing plan.
Scheme 1: small frame-type pyrolysis device
Processing capacity :100 kg/D, 500 kg/D
This small frame-type waste tire pyrolysisdevice, designed by Henan Doing company, has been installed in the frame before being delivered to the customer. Therefore, even during the pandemic, it is safe to purchase small pyrolysis devices without worrying about installation. You can put it anywhere you want, it's a mobile pyrolysis device. You can also buy it for a test run on the waste tire cracker project.
The small frame type waste tire pyrolysisdevice has the advantages of easy installation, cost saving, easy handling, easy detection and so on.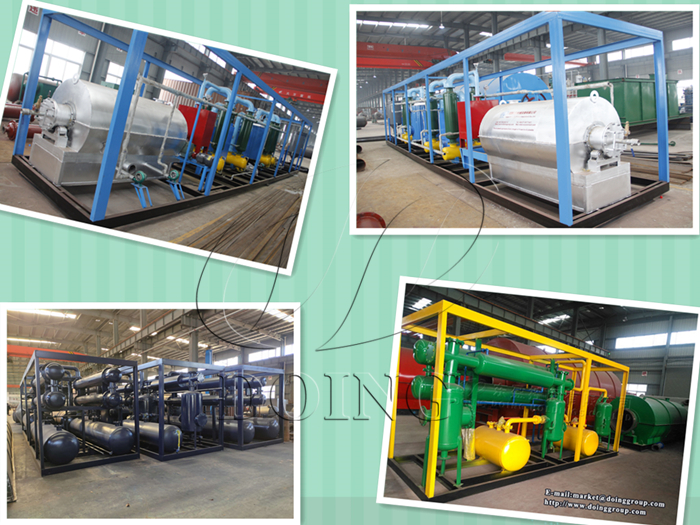 Small frame-type pyrolysis device
Scheme 2: batch pyrolysis device
Processing capacity :100kg, 500kg, 1TPD, 2TPD, 5TPD, 10TPD, 12TPD, 15TPD, 20TPD, etc
batch pyrolysis device for the budget is limited and degree of automation requirements of customers and use conventional standard design. Customers can according to their own situation, under the guidance of professional sales manager step by step to choose, in order to achieve the highest cost-effective purpose.
Doing company is a leading manufacturer of batch waste tire pyrolysisdevice, our batch pyrolysisdevice has the advantages of high cost performance, eastern operation, good stability and so on.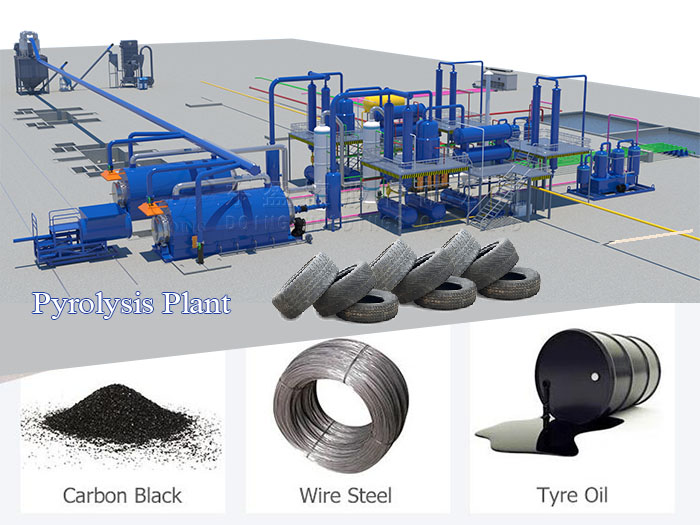 Batch waste tyre to fuel oil machine
Scheme 3: continuous pyrolysis device
Processing capacity :15 tons per day 20 tons per day 30 tons per day,50 tons per day, etc.
Now countries increasingly strict environmental protection, many countries promote the continuous pyrolysis device to deal with waste tires, and even advised not to install the batch pyrolysis apparatus. In order to face the global trend, DOING improved on the basis of the original design and developed the current seventh generation full continuous design.
Doing's continuous waste tire pyrolysisdevice can achieve higher environmental requirements and work efficiency, with a fully automated PLC system, large processing capacity, time-saving and labor-saving advantages.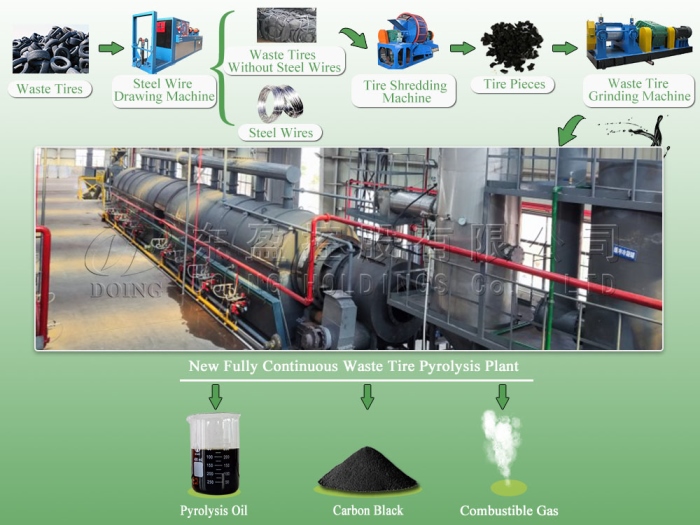 Continuous pyrolysis device
No matter what kind of waste tyre cracker you want to buy, please contact Doing for professional advice and free quotation. As a professional manufacturer, we can customize small frame/batch/continuous pyrolysis device with good quality, high safety performance, high cost performance and guaranteed after-sales service at 100% ex-factory price!