Waste plastic is all around in our daily life, and actually we can adopt waste plastic pyrolysis plant to recycle waste plastics and produce fuel for high profits. Doing Group has been engaged in the R&D of pyrolysis plant for 11+ years, and our waste plastic pyrolysis plant has matures technology and stable operation.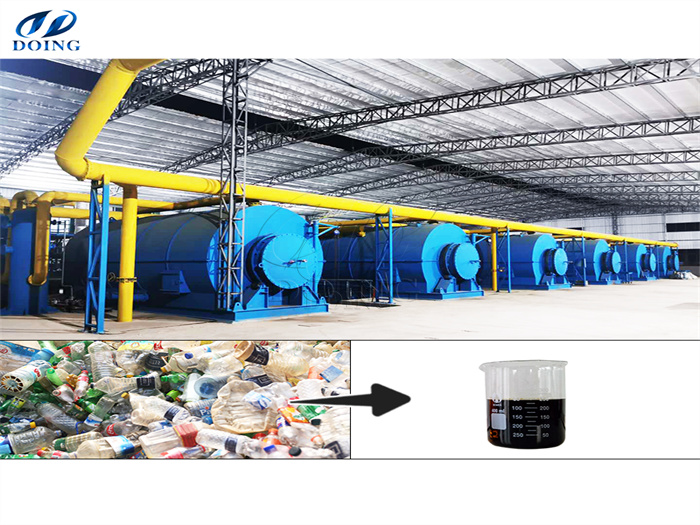 DOING factory plastic to oil pyrolysis plant
The detailed recycling process of DOING waste plastic pyrolysis plant to produce fuel from waste plastics mainly includes 5 steps:
1)Feeding waste plastic
If you dry and clean the waste plastic before feeding, you could get higher oil yield. It needs one worker to control the auto feeder to feed waste plastic into pyrolysis reactor. Our reactor diameter is 1.4 meters, you just need about one to two hours to finish the feeding.
2)Heating plastic
After finished feeding, turn on the burners, it will heat the reactor of waste plastic pyrolysis plant. The temperature in the reactor will continue to rise, thereby pyrolyzing the polymer compound waste plastic into small molecules.
3)Extracting oil out
When the temperature reaches 160 degrees, there is oil gas from the waste plastic. When the temperature is up to 260 degrees, it is the best stage to get oil. Cooling oil gas into liquid oil, the liquid oil will flow down into tanks.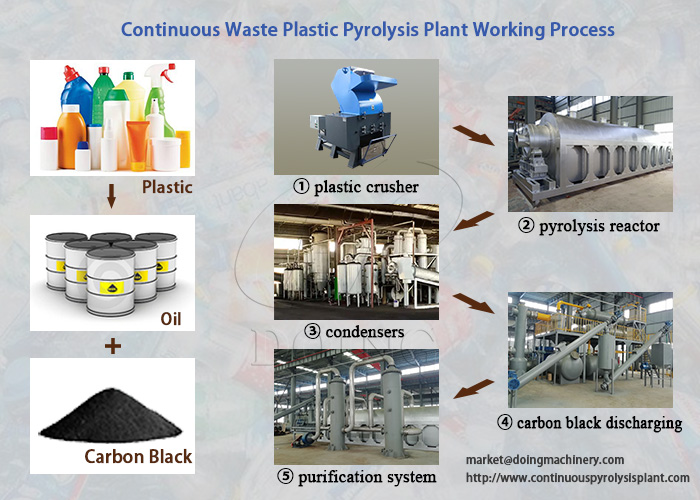 Fully continuous waste plastic pyrolysis plant process
4)Cooling the reactor
When all oil gas is condensed into liquid oil, it's time to cool down the reactor, then our draft fan will work. DOING waste plastic pyrolysis plant has four inlet tubes and four outlet tubes to increase the cooling effect. And it just needs about two hours to cool down the reactor.
5)Discharging carbon black
When the reactor temperature gets about 50-80 degrees, we could discharge the carbon black for pelleting uses, heating uses or for sale.
The whole recycling process of producing fuel from waste plastic is very easy to study. The most important thing is to purchase suitable waste plastic pyrolysis plant with mature technology and excellent quality to ensure high oil yield and obtain the best profit.
We have fabricated the pyrolysis plants for customers from 90+ countries and are well recognized by our clients. We can customize proper waste plastic pyrolysis solutions based on your situation, welcome to inquire!