The wasteplastic recycling business is a really hot business for now. Most new beginners in pyrolysis industry would like to recycle wasteplastics to fuel oil, but don't know how to start it. So it's suggested to begin with a small scale wasteplastic pyrolysis machine. DOING DROUP has mature experience in the R&D and fabrication of pyrolysis machines. The minimum wasteplastic pyrolysis machine scale to produce fuel oil we can offer you is 100KG per batch.
The 100KG per batch wasteplastic pyrolysis machine is a very efficient and convenient pyrolysis machine scale. It adopts the skid-mounted frame design, which can be easily transported and used without equipment installation. The size of 100KG per batch wasteplastic pyrolysis machine is 5 meters in length and 2 meters in width. So it won't take much space to start this small scale wasteplastic pyrolysis machine.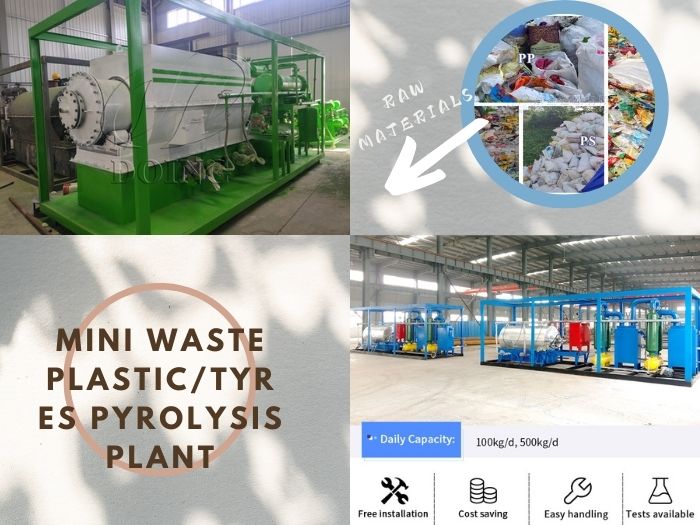 The mini scale waste plastic pyrolysis plant
The wasteplastic pyrolysis machine from DOING GROUP has high quality, high oil yield, and high efficiency. It can realize the wasteplastic to oil recycling with zero pollution, and the final product can be 40-45% fuel oil, 30-35% carbon black, and 15% steel wire, 10% tail gas. Besides processing the wasteplastics, it can also be used to pyrolyze the waste plastics, oil sludge. This 100KG per batch pyrolysis machine scale is also very suitable for doing feasibility trail study and doing experiments as well.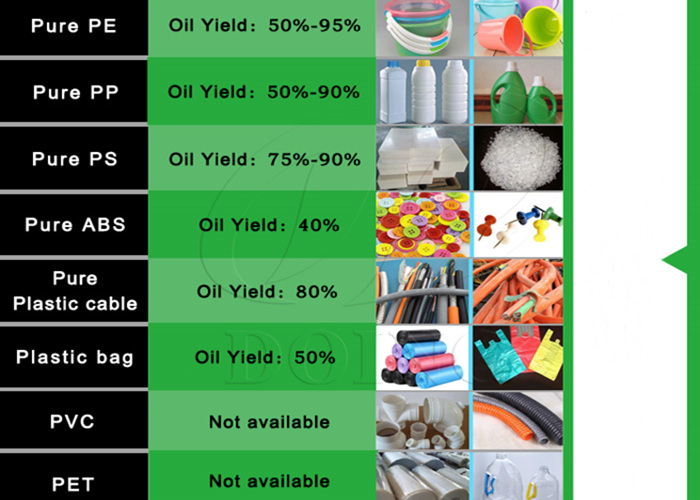 Different raw material has different oil yields
With mature pyrolysis technology and advanced environmental protection equipment, DOING has sold this kind of small scale 100KG wasteplastic pyrolysis machine to many countries, such as Australia, UK, Spain, Italy, Chile, Brazil and so on. Welcome to send us your inquiry, and our sales manager will offer you the free quotations and machine operation videos for your reference!
And we can also customize you the bigger scale continuous/batch pyrolysis machine with the processing capacity of 500KG/1T/2T/5T/10T/12T/15T/50TPD, etc.