Many customers are gradually learning that waste plastic can be converted into fuel oil, but they don't know how that happens and what machine is needed. Today we will introduce to you what machine can convert waste plastic into fuel and how it works.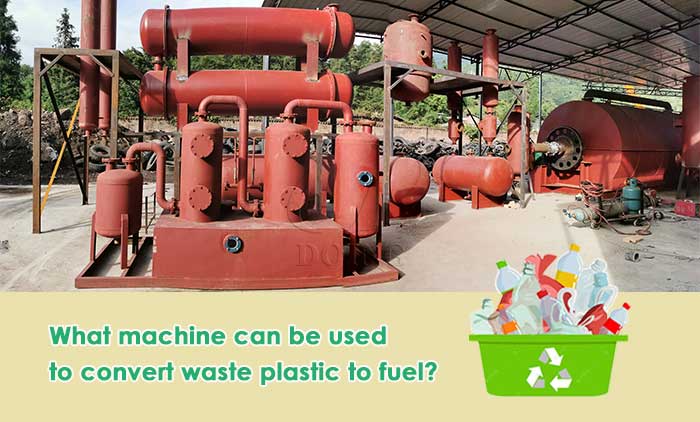 What machine can be used to convert waste plastic to fuel?
As a derivative of petroleum, plastic is a polymer compound containing mainly C, H and other elements, which can be broken down into small molecules such as fuel oil, carbon black and combustible gas by pyrolysis, a decomposition reaction under high temperature and oxygen-free conditions.
This is exactly the principle that Doing waste plastic to fuel machine uses to make oil from waste plastics. And Doing waste plastic to fuel machine is equipped with a 360-degree rotating reactor, a four-step efficient condensation system and an advanced flue gas treatment system to ensure that the entire operation is efficient and environmentally friendly.
The operation process of Doing waste plastic to fuel machine: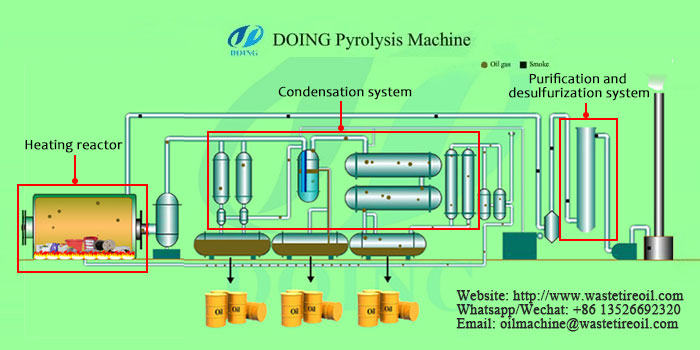 The workflow of Doing waste plastic to fuel machine
1. Put the waste plastic into the reactor by automatic feeding device, close the feeding door and turn on the heating system of the waste plastic to fuel machine.
2. When the temperature of the reactor reaches 160 degree Celsius, oil gas is produced. When the temperature rises to 200 degree Celsius to 300 degree Celsius, it reaches the highest yield of fuel oil.
3. The oil gas will enter the condensing system, where a part of it will be liquefied and flow into the oil tanks. Another part of the non-condensable gas will be received into the furnace chamber to assist in heating the reactor.
4. The smoke and dust particles produced during the fuel combustion will be filtered through the desulfurization and purification system to meet the environmental standards and then discharged into the air .
5. When waste plastic is fully pyrolyzed into fuel oil, the heating system will be turned off and the black carbon will be discharged automatically when the temperature of the reactor drops to about 50 degrees Celsius.
The products of Doing waste plastic to fuel machine and their applications:
The products of Doing waste plastic to fuel machine are mainly fuel oil, with some carbon black and combustible gas. One of their main applications is to be used as fuel. Combustible gases are produced in smaller quantities and are often recycled directly to the furnace to assist in heating the pyrolysis reactor to reduce storage and transportation costs.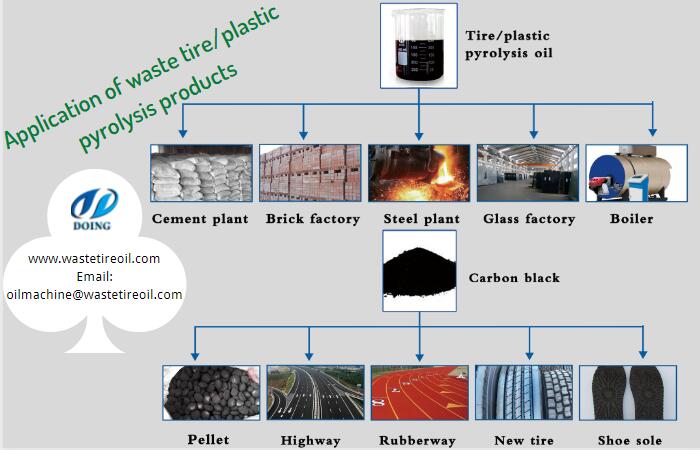 The applications of Doing waste plastic to fuel machine
Fuel oil can be sold directly as fuel to various heavy industry plants, such as steel plants, cement plants, boiler plants, power plants, etc. If there are relatively few heavy industries in your country, you can also use waste plastic oil distillation plant to remove paraffin and gum from fuel oil, then decolorize and deodorize, and finally refine it into non-standard diesel oil. This diesel fuel has higher calorific value and can be used in diesel generators, heavy machinery, engines, boilers, etc.
Carbon black can also be used directly as a fuel to replace coal, wood, etc. It can also be further refined into powder and used in the manufacture of tires, shoe soles, pigments, etc.
Doing Group has been in this waste plastic to fuel industry for more than 10 years and is constantly improving every part of the machine to help our customers maximize their benefits. If you also want to get fuel oil from waste plastic and want to know more details, please feel free to consult us.