Continuous pyrolysis plant and batch pyrolysis plant are different types of pyrolysis plant we can provide now, they both can recycle tyres or plastic to get fuel, but there are still some differences in process and technology.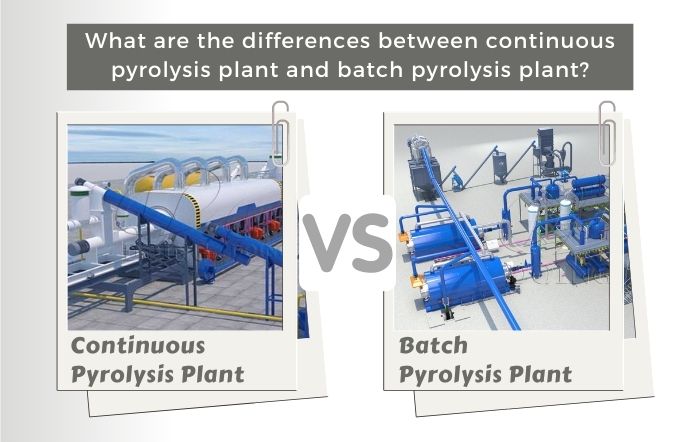 What are the differences between continuous pyrolysis plant and batch pyrolysis plant?
First, the working efficiency is different. Continuous type pyrolysis plant can automatically feed and slag without stopping and continuously get oil, which has a higher working efficiency. That also means we need preprocess the material before feeding, for example, we need make plastic into some little piece, and make tyres into rubber powder, we also need take over the steel wire from tyres in advance, so that we cam run the machine continuously. For batch pyrolysis plant, we can put the whole tyres into the reactor, but we need to discharge carbon black and steel wires after cooling the pyrolysis reactor.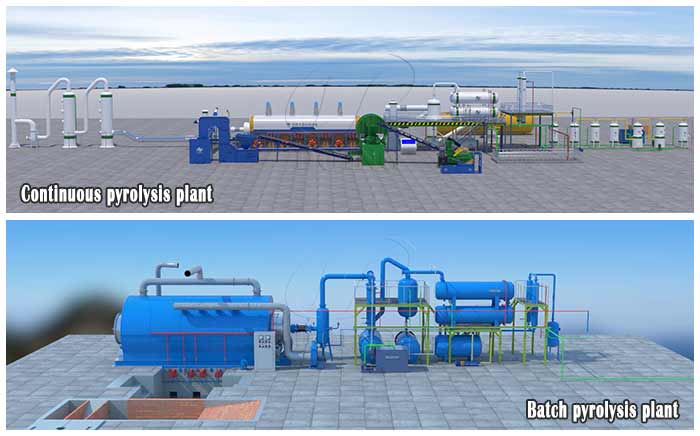 Continuous pyrolysis plant vs batch pyrolysis plant
Second, the processing capacity is different. For continuous pyrolysis plants, we can supply machines with 20t, 30t or 50t daily capacities , which are suitable for big project. If you can get a large amount of waste tyres every day, you can consider them. However, the daily processing capacities of batch pyrolysis plant are mainly 10t, 12t or 15t. Both of them can get high-quality fuel. According to the different needs of customers, the choices are different.
Third, the occupy area is also different. For a 10t batch pyrolysis plant, it needs about 350-450 square meter land to settle, but for a 50t continuous one, it needs about 1500-1800 square meter. If your land is huge, we can set a material area near by the plant, it will be better to save time of material transportation.
All in all, continuous pyrolysis plant has a high standard and high efficiency, while batch one is a regular device and more suitable for small scale, so if you have waste plastics or waste tyres to process, please contact us for more equipment information.