At present, the general methods of disposal waste plastics in the world include landfill, incineration, regeneration granulation and pyrolysis.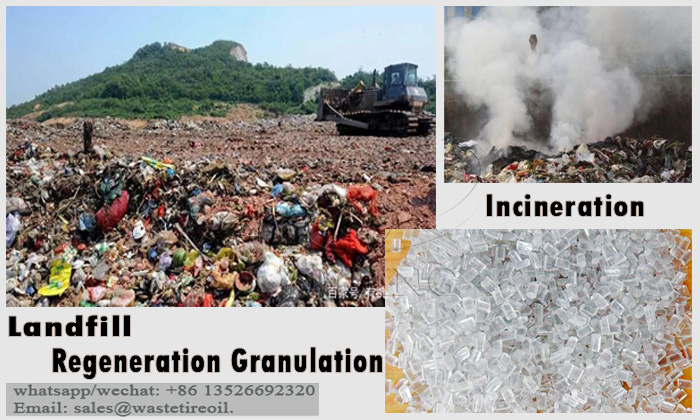 Three waste plastics disposing methods
Landfill is the traditional method to dispose of waste plastic which has great hidden dangers and harm for environment because it not only increases the pressure of land, but also will pollute the groundwater by its other additives.
Incineration also is a widely used way to dispose of waste plastic. During burning plastics, it will produce toxic gases, such as burning polystyrene, toluene will be produced which will cause blindness, vomiting and other symptoms once inhaling it.
Regeneration granulation is a physical recycling way of waste plastic which can reproduce the recyclable plastic into new plastic products after machining operation. This method is much better than former two ways. But it is not suitable for all kind of plastics, such as plastic films, bags and other laminated plastic.
Pyrolysis technology is a new chemical way to dispose of waste plastic which is adopted by our waste plastic pyrolysis plant. Compared with above three methods, this way is more environmental friendly and profitable. Next, let's discuss its advantages in detail.
1.Disposing plastic waste by pyrolysis technology is more environmental friendly
Pyrolyzing waste plastics by waste plastic pyrolysis plant is totally different way with the incineration way. It is a thermo-chemical reaction, which involves molecular breakdown of lager molecules into smaller molecules in presence of heat. The whole pyrolyzed process is took place in a seal reactor, thus there is no harmful gas emit into air during pyrolyzing process. Then the produced gas from pyrolysis reactor will pass the cooling systems, the oil gas will be cooled into liquid oil, the tail gas will be emitted into atmosphere after cleaning by our tail gas clean system.
The working process of waste plastic pyrolysis plant
2.Disposing plastic waste by pyrolysis technology is more profitable
After disposing of waste plastics by waste plastic pyrolysis plant, you can get pyrolysis oil and carbon black, both of them can help you make profits. The pyrolysis oil can be sold to the steel factory, boiler heating, heavy oil generator and cement factory as fuel oil. The carbon black can be briquetted by the briquetting machine into pellets which combustion value could reach to 7000Kcal/kg, is almost equal to coal and charcoal. Or you can make further refining for the pyrolysis carbon black to get N550, N660, N774 and other semi-reinforced carbon black, which could be used for making many kinds of rubber products, like new tire, shoe soles and paint.
The final products of waste plastic pyrolysis plant
Hence, if you want to dispose of waste plastics, waste plastic pyrolysis plant will be your best choice. Please contact with us if you have needs.