Waste plastic pyrolysis plant, also called waste plastic to oil machine, can process various types of plastic for recycle use. There are three main products at the end, plastic pyrolysis oil, carbon black and uncondensable gas.

Waste plastic pyrolysis plant for usable energy
Plastic Pyrolysis Oil
The plastic pyrolysis oil is the largest output from waste plastic pyrolysis plant. It accounts for 30% to 90% according to the different materials. This oil can be burned "as is" for certain purposes such as industry heating oil (the sulfur content meets U.S. standards for heating fuel) Or it can be burned in fixed RPM machines such as generators. It can also be used in large industrial burners such as power stations.
In addition, the plastic oil can be further refined to be used as a diesel in motor vehicles. The process is distillation which happens in our plastic oil to diesel plant. This end diesel can be used in any vehicles that burn standard diesel fuel.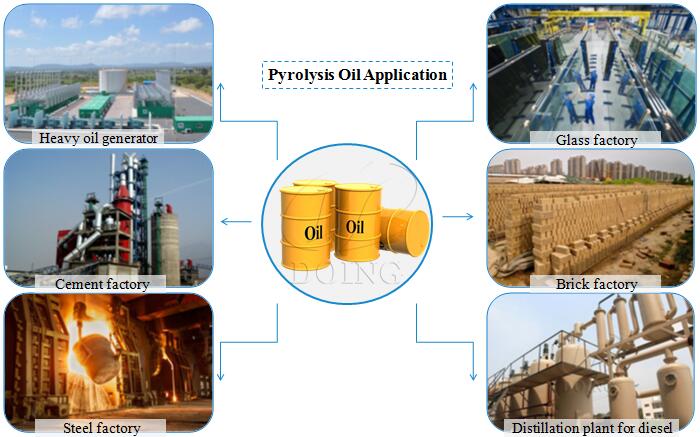 The pyrolysis oil made from waste plastic
Carbon Black
Carbon black is the second largest output(by volume) from waste plastic pyrolysis plant. It can be used in a variety of manufacturing processes or can be processed into a solid fuel comparable to coal. It can be formed into either pellets or briquettes.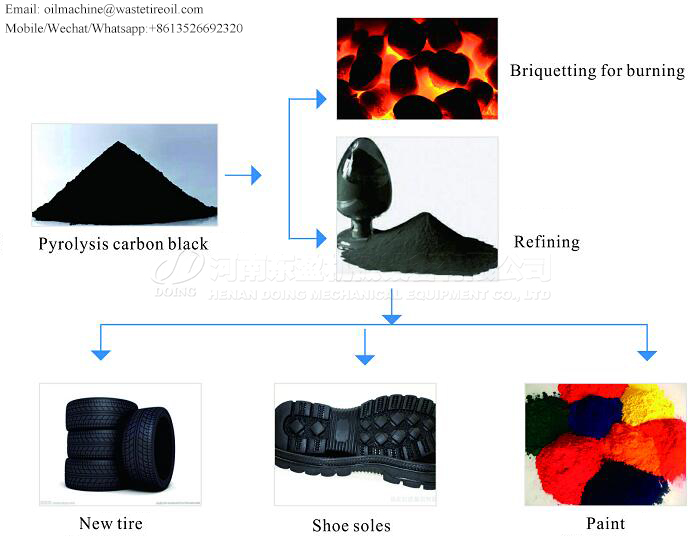 Carbon black application
Uncondensable Gas
This gas usually returns to heat the pyrolysis reactor saving fuel cost. The extra uncondensable gas is burned after treated by tail gas cleaning system, so it will not pollute environment.
Uncondensable gas is reused as fuel to heat reactor
Above is the main products made from waste plastic pyrolysis plant. The equipment working principle is simple, including pyrolysis and condensation. In the pyrolysis process, waste plastic is cracked into small oil gas particles, then goes through condensers when the oil gas is cooled into fuel oil. [Recommend reading: working process of plastic to oil machine ] The products produced by our waste plastic pyrolysis plant is of high quality, praised by our customers. The waste plastic pyrolysis plant is hot sale in market. Due to the demand increasing, the equipment price is estimated to be higher soon. If you have a interest, contact us NOW!