Plastic pyrolysis plant can produce liquid oil from plastic waste at different temperatures (300–900°C), in the absence of oxygen, which is a technique called pyrolysis. Generally speaking, catalysts can be used to improve the pyrolysis process of plastic waste and to enhance process efficiency. But, we don't use any cracking catalysts in our plastic pyrolysis plant. I will tell you why next.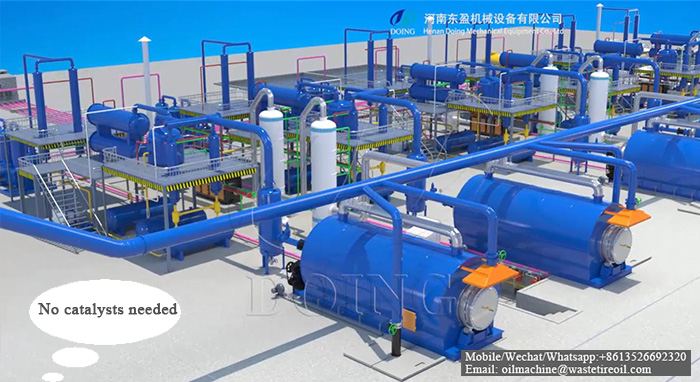 DOING plastic pyrolysis plant 3D drawing
Firstly, most of the effective cracking catalysts are acidic, but the acid will cause corrosion to the reactor and shorten the service life of the plastic pyrolysis plant. At the same time, the byproduct produced by pyrolysis of plastic is more likely to clog the reactor and cause subsequent maintenance problems.
In addition, with the use of cracking catalyst, the production of gases is high, but a slight decrease in the liquid oil yield may happen due to its high acidity. What we want get from waste plastic is liquid oil, so it doesn't make sense to us.
What's more, using cracking catalyst will increase the equipment operation cost, which means the economic profit will be decrease. It is not worth the money. So our plastic pyrolysis plant don't use cracking catalyst.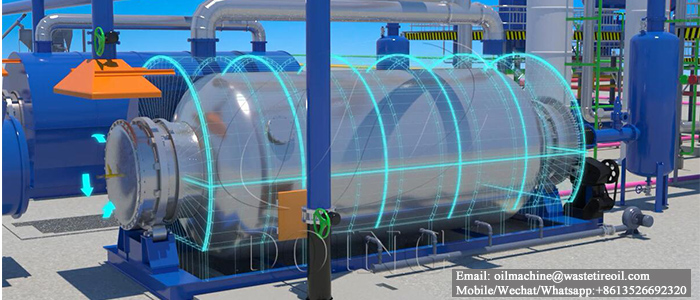 Our plastic pyrolysis reactor with rotary design
Even without cracking catalyst, our plastic pyrolysis plant has high oil yield because of many condensation are the two main steps of plastic pyrolysis. To ensure fully pyrolysis of waste plastic, our plastic pyrolysis plant heats the feedstock in a rotary way, which not only saves fuel but also makes the temperature rise quickly. As for condensation, we adopt three-stage professional tube condensation system, including 2 vertical condensers, 2 horizontal condensers and 2 cooling tower. The total heat exchanging area of the condensation system is about 104㎡, thus to get fully cooling effect.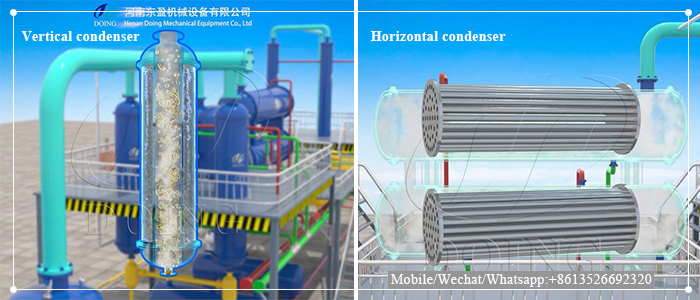 The condensation system of our plastic pyrolysis plant
As a professional plastic pyrolysis plant manufacturer, DOING has updated the equipment for times, aiming to provide the customers higher oil output plastic pyrolysis plant. If you need this equipment, contact us freely!